Do you want an efficient and inexpensive scooter for your daily commute? Xiaomi Mi Scooter Essential delivers everything you would expect without going overboard. With a price tag of less than 300 euros, it is highly recommended.
It may not be the most efficient electric scooter on the market, but the Xiaomi Mi Scooter Essential is, as its name suggests, a model that offers the basics of urban mobility without breaking the bank. It's even more affordable during the Black Friday period with €50 off its starting price.
Key points of Mi Scooter Essential
Speed ​​limited to 20 km/h via 3 modes
Average autonomy 20 km
Active braking system
Instead of the usual 349 euros, the Xiaomi Mi Scooter Essential is now available for sale at only 298.97 euros at Electro Depot during Black Friday.
---
If after that the offer mentioned in this article is no longer available, please take a look below to find other promotions for Xiaomi Mi Scooter Essential. The table is updated automatically.
Where to buy

Xiaomi Mi Scooter Essential at the best price?
City and city above all
With a maximum of 20 km/h in Sport mode and 15 km/h in Standard mode, don't expect performance with the Mi Scooter Essential, which has clearly been designed for urban use only. It is ideal for moving around in small spaces and on organized paths. Changing modes is very easy with the button at the bottom of the LCD screen, even while running.
The level of autonomy is also far from the best, but that's not the point. The Essential can be used for about twenty kilometers, more than enough for short day trips, and ideal for commuting to work in the city, for example.
Practical functions
Mi Scooter Essential only shows 12 kilograms on the scale, compared to more than 14 kilograms for the more advanced models. Folds in half for easy storage and transportation. The screen is located on the handlebar to display information such as the mode in use, the speed at which you are riding, or the remaining battery gauge.
This scooter offers IP 54 certification for rain and dust resistance. It also has a dual regenerative braking system as well as E-ABS on the front wheel to ensure user stability during deceleration periods. Everything is under control thanks to the dedicated app and you can consult practical information such as the distance traveled or the average speed. You can also perform the lock remotely.
To find out more, feel free to read our test of the Xiaomi Mi Scooter Essential.
7 / 10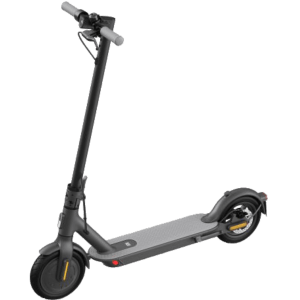 Black Friday 2022: Don't miss out on the best deals!
Black Friday hasn't officially started, with the event's start date set for Friday, November 25th, but most e-commerce merchants have already started sharing their best deals under the Black Week tag, a week before Black Friday. Here are the Black Friday deals already available at French e-tailers.
You can also find our picks by topic:
To make sure you don't miss out on any great deals from this event, here are some reactions to follow now so you don't miss out on any of the promotions we recommend:
Follow us on our Twitter account @employee Only for good deals (remember to activate the bell to receive notifications in real time)
Download our Frandroid app (available on iOS and Android) to activate notifications from the "Good Deals" category and thus receive new articles related to Black Friday in real time
Subscribe to our Good Deals newsletter to make sure you receive offers in preview (no more than 1 email per day, 1-click unsubscribe, no distribution to third parties):
---
To follow us, we invite you to download our Android and iOS app. You can read our articles and profiles and watch the latest videos on YouTube.