Google Pixel 7 Pro is the Android smartphone. True, it's a spoiler for the review but Google has done great this year and it should be said right away in no uncertain terms. Pixel 7 Pro is the smartphone to beat not because it is the most complete from a hardware point of view but because of its high price-quality ratio, which is rare these days.
Google Pixel 7 Pro design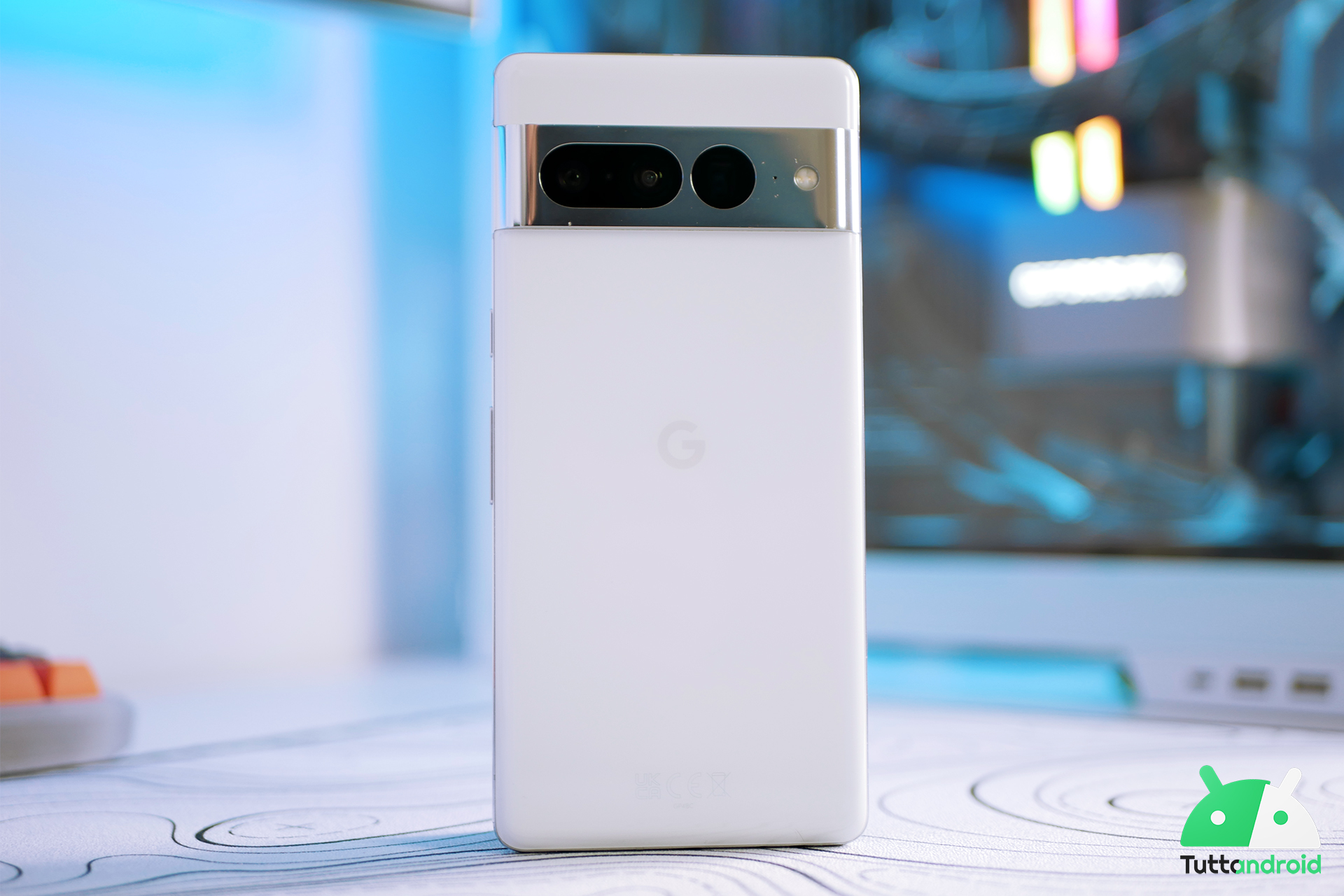 The Pixel 7 Pro from an aesthetic point of view changes little but it does change for the betterThe chamber bar is now a single piece of aluminum and is continuous with the profile. Compared to the 6 Pro, it is more resistant, toned and a little more precise. There are also other small aesthetic changes like the physical keys that have been moved down and spaced outward, the Gorilla Glass Victus front cover is less curved on the edges, more protective with a side profile, and a bit cleaner on the top without the old plastic section.
There is support for wireless charging, and even reverse charging, and there is an IP68 certification, and how The unlock method is the new face unlock + fingerprint sensor under the screen. The fingerprint sensor is significantly improved over the Pixel 6 Pro, it's more accurate, it's not among the fastest but it's just as pleasant.
On the other hand, the face unlock does not have dedicated 3D unlock sensors but works with the usual Google AI to recognize the subject. It works very well when there is a face lit up, it can't be unlocked with fake photos or videos, in low light it will never unlock and you will have to use the fingerprint reader which is still the most important security method, banking apps can't be accessed with the unlock feature with the face."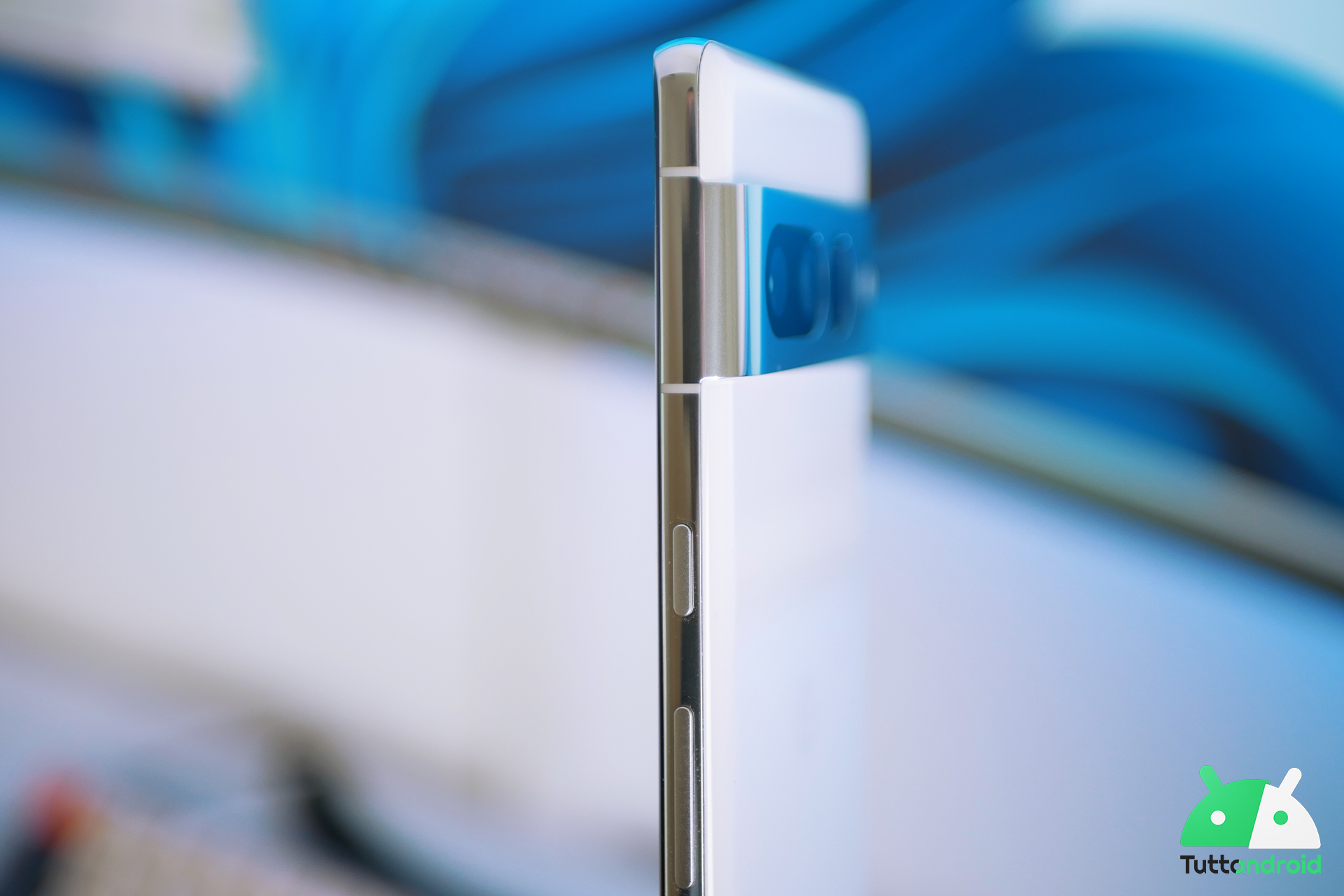 In addition, the Pixel 7 Pro has been rethought from the inside with a dissipation system that works better with Tensor G2, and objectively, the new Pixel heats up much less, and the pleasure and consumption benefit a lot. Small but substantial changes for a smartphone with a futuristic design, with personality, that you may like or not like but that has a strong identity of its own.
Google Pixel 7 Pro screen and sound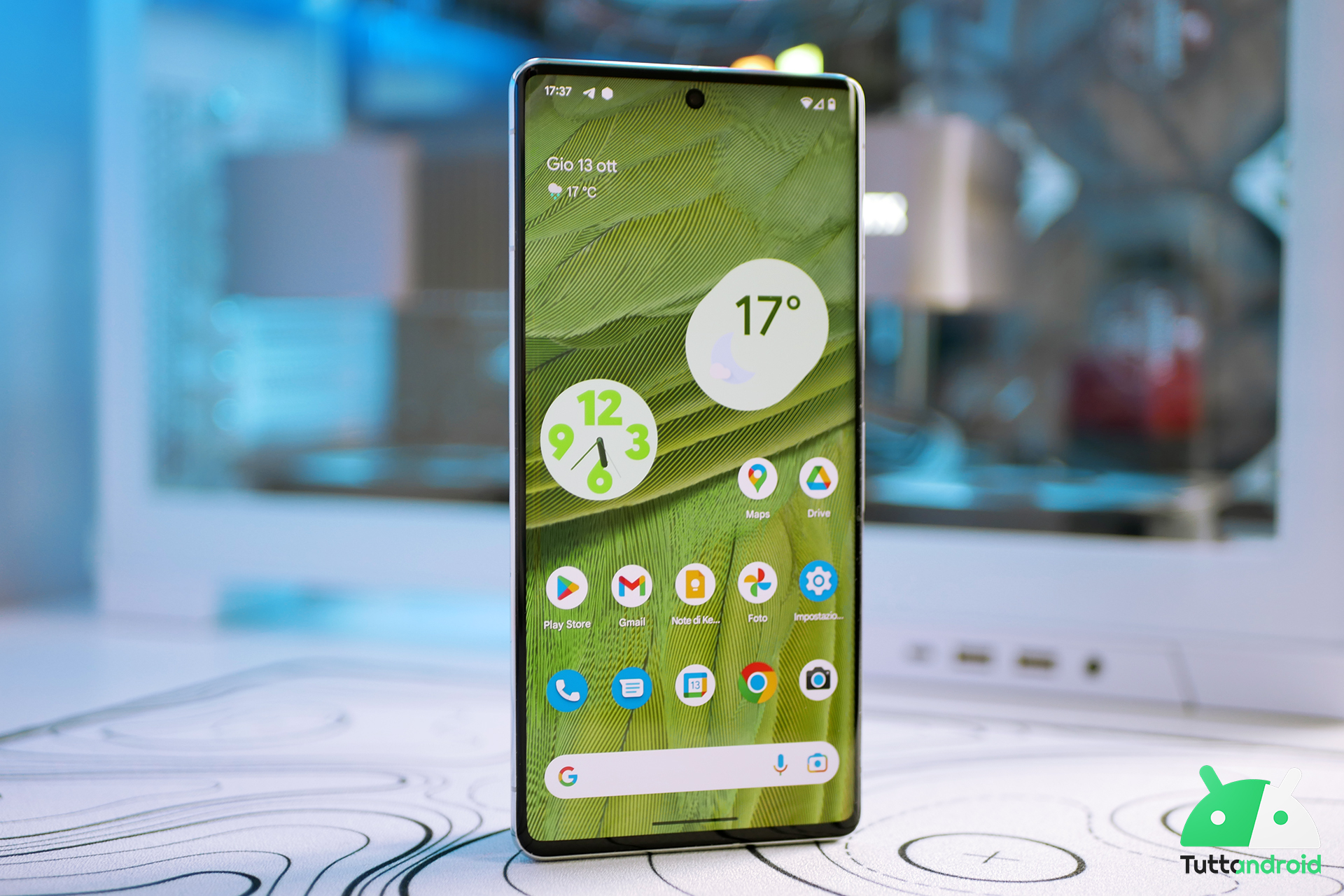 The Pixel 7 Pro's display is satisfactory from all points of view Even if it's not at the top of the category, it's a 6.7-inch 19.5:9 aspect ratio with QHD+ resolution and 120Hz LTPO OLED HDR technology. However, there is a bug that does not allow it to go down to 10Hz, it is between 60 and 120Hz which does not affect battery life but even if it always stays at 60Hz that is not good. Nothing serious but worth reporting.
The screen is slightly brighter than the old 6 Pro, and Google claims it's 25% brighter with a peak 1,000 nits to 1,500 peak. In summary, it is a nice panel, well readable in sunlight, excellent color calibration, ideal for multimedia also with the audio department improved compared to the 6 Pro with two speakers that provide higher volume and quality for even cleaner and sharper separation. In tandem, the 7 Pro noticeably improves multimedia.
Using Google Pixel 7 Pro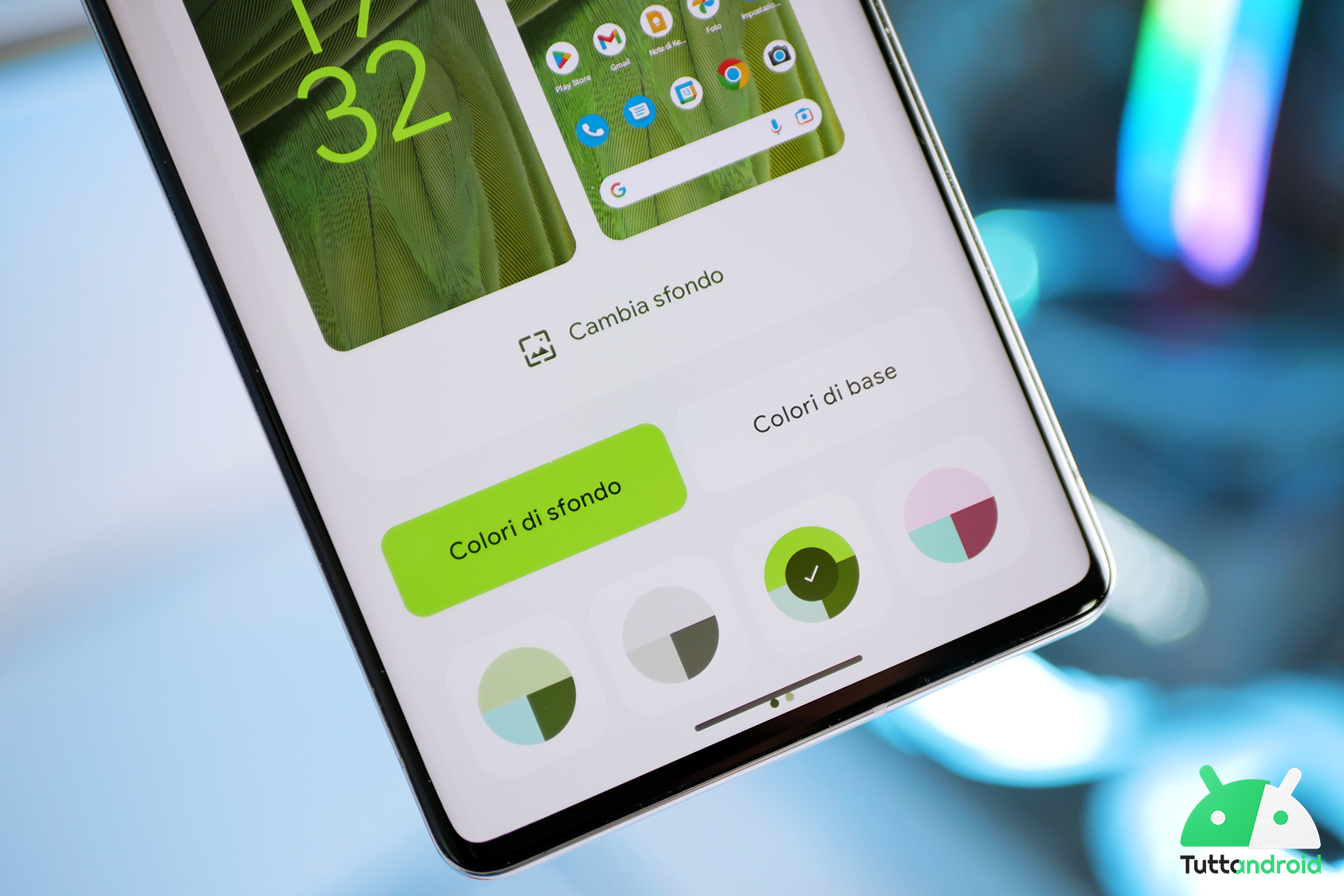 New SoC for Pixel 7 Pro, and G2 tensor Consists of a CPU made up of 2 large cores X1, 2 new medium cores a78 and 4 small cores a55, new GPU ARM Mali G710 with few cores less than the original Tensor but with new architecture more powerful and efficient, new TPU machine learning 60 % More powerful 20% more efficient with lower latency Content Focus There's a new computational imaging ISP and security foundation for the Titan M2. Manufacturing process at 5 nanometers.
As you know, Google does not aim for records, Tensor was created specifically to enable AI features better, the differences between one SoC and another cannot be seen, however, going into the technical, it could have been done better even if in the end The Tensor G2 + Android 13 combo powers the Pixel 7 Pro flawlesslyVery few complaints. Definitely another planet compared to the first buggy versions of the Pixel 6 Pro. Big credit also goes to Android 13 with its Material You interface, which is definitely improved over the old Android 12 and richer in haptic feedback, super-animated system sounds, and little hidden objects.
No benchmarks updated to the Tensor G2 but trust me, the Pixel 7 Pro is consistent, travels fast, the experience is pleasant, tidy, reasonable, 120Hz gives an extra gear and there are no problems even in games. Obviously, all the functions related to the world of artificial intelligence give an advantage to this smartphone and more will arrive during the year thanks to the Drops feature. Note to the advantage that the Tensor G2 heats up less than last year, in any context of use. Under conditions of heavy use, the Pixel 7 Pro still heats up, as all the top ranges get hot, but it heats up much less than the 6 Pro.
Google Pixel 7 Pro autonomy
The Pixel 7 Pro's battery remains 5000 mAh but it lasts 15-20% longer than the Pixel 6 Pro. From a purely practical point of view, it is possible to simply reboot the screen for 7 hours, a day of heavy use is always closed without major concerns. As usual for a Pixel device, the battery will be at its best after an adaptive learning period, so those results will likely be better in a month or so. Charging is always slow, 23W with 30W peaks but nothing to make you scream like a miracle.
Google Pixel 7 Pro camera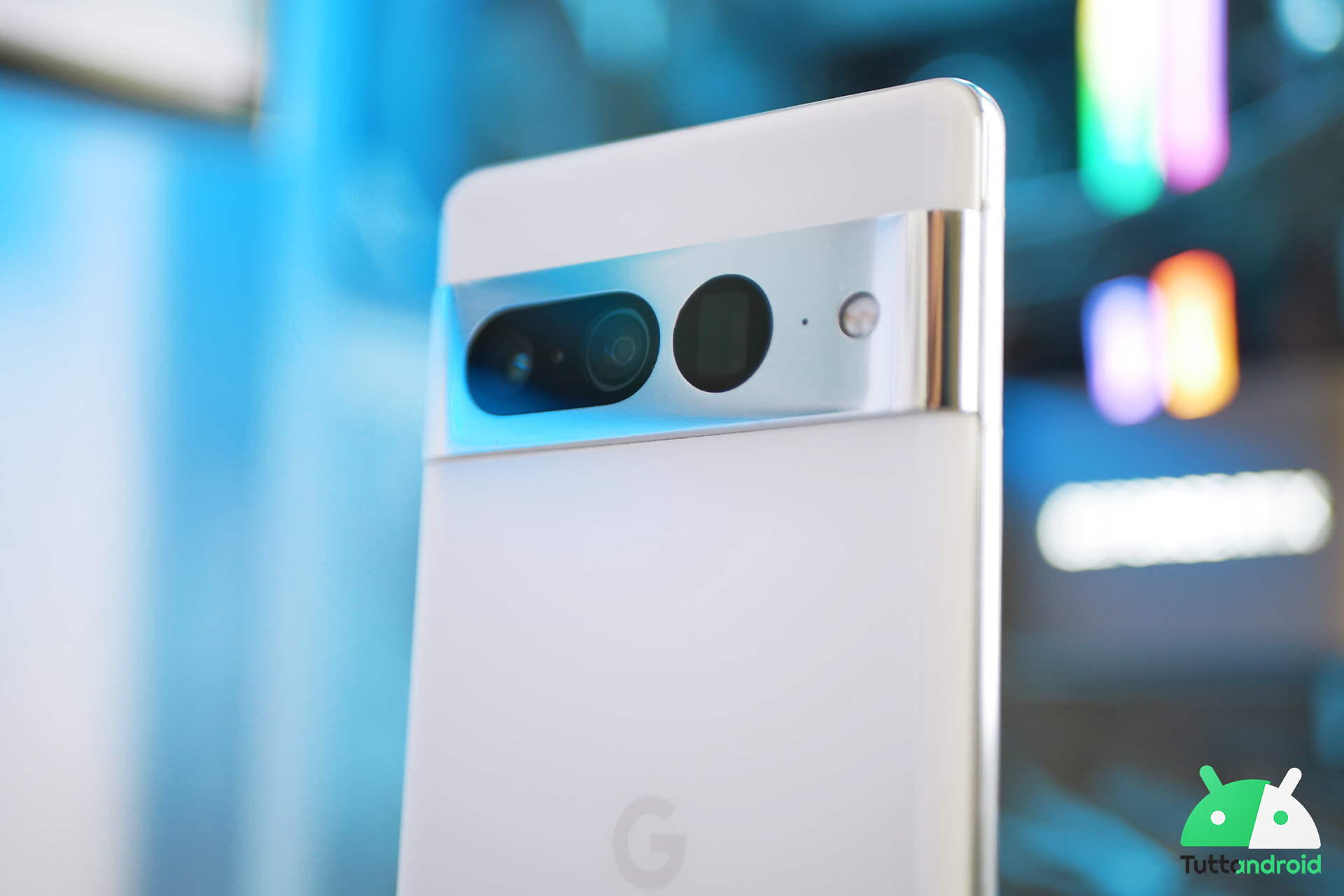 Some of the sensors have changed in the new Pixel 7 Pro's camera strip. It's still the 50MP f1.8 wide-angle sensor with an 82° field of view, the 12MP f2.2 125° wide-angle sensor with distortion correction and autofocus for macro mode changes and the 48MP sensor slightly changes the 5X periscope Zoom f3. 5. The 10.8MP f.2.2 front camera is a little different.
However, the material does not change the Pixel 7 Pro as it is among the best camera phones on the market with artificial intelligence functions such as Face Unblur to restore blurred faces, the magic eraser that is always very useful, Best shot to choose the best shot and astrophotography. Also capable of making excellent time-lapse shots. Pixel 7 Pro, as usual, very solid for photos in all lighting conditions, excellent in full light, against light, in environments with artificial light, in low light conditions with the new night mode also faster. Always great selfies, portrait mode and other special modes.
But there is still optimization work to be done in the field of video as the front camera at night returns ultra clear video noise even in 10-bit HDR mode and the same thing happens for ultra-wide always in 10-bit HDR which is a shame because 10-bit HDR took videos Which has the main sensor a big step forward, day and night, much better than the Pixel 6 Pro.
Google Pixel 7 Pro final thoughts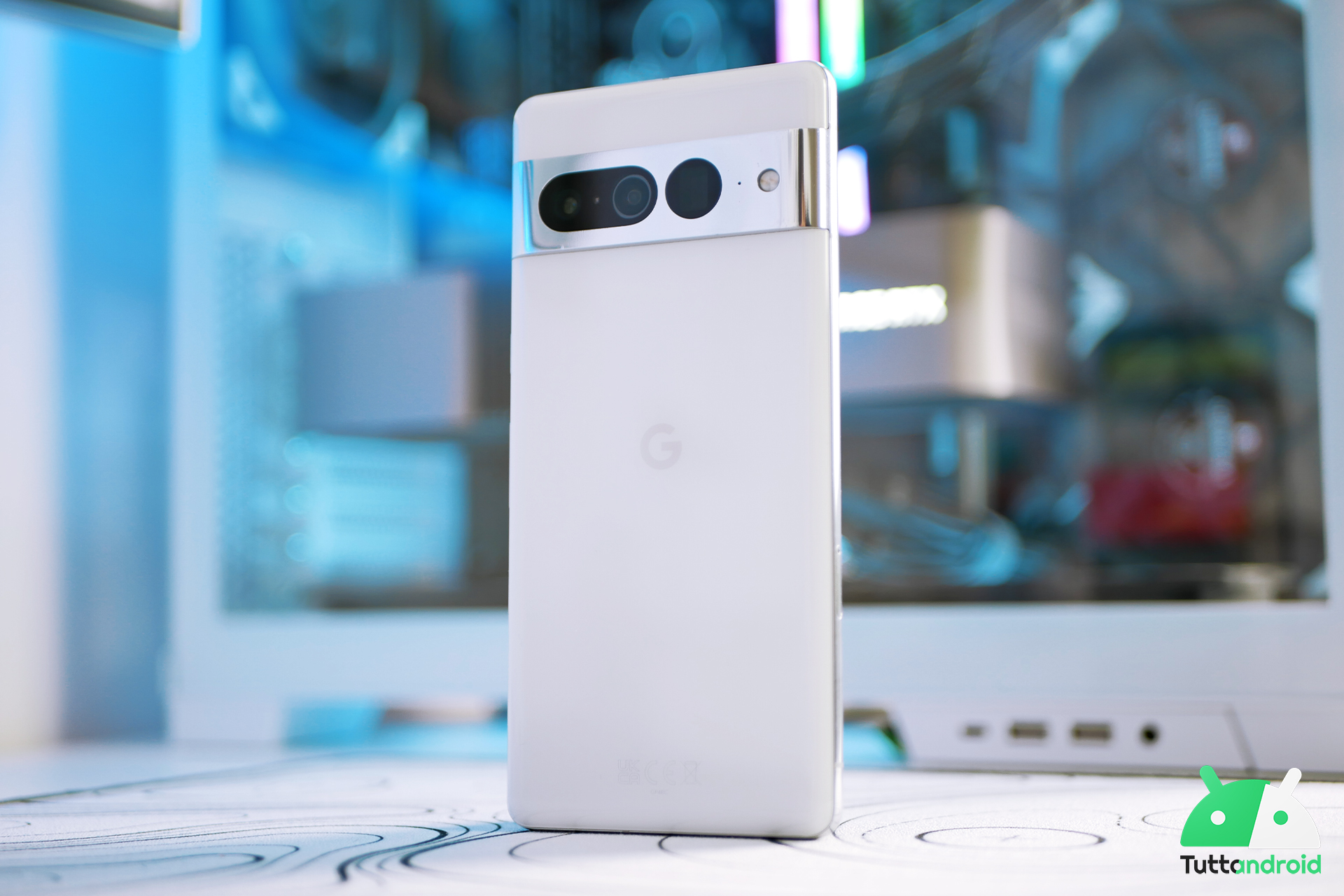 In a world where Apple not only raises the slate of new products, but also revises the old ones up, and where even small startups like nothing raise the slate of headphones over a year and a half old, Google blows everyone away with the same €899 it charges for the Pixel 7 ProExactly the same amount asked last year for the 6 Pro.
Inflation, shortages, over-priced services, the euro-dollar exchange rate, etc. do not fall into the pockets of consumers but are sucked in by Google, thus changing the upward trend in the technology sector which seems to have no brakes. In fact, last year's Pixel 6 Pro was already on the market at an excellent price, and today's Pixel 7 Pro is worth way more than it's asking for, it manages to run great even with smartphones that cost a good 400. euros in more.
It does this thanks to the user experience that only a Pixel can deliver regardless of the hardware base. Google Pixel 7 Pro is the Android smartphone (and not only) to beat Not only in terms of value for money but also in terms of kindness, consistency and intelligence. The term smartphone no longer tells us anything, we are used to hearing it.
However, the word is made up of smartphone +, literally a smartphone. This Google Pixel 7 Pro with Tensor G2 and all the AI ​​goodies of the Mountain View giant is, by separation, the smartest smartphone you can find. Once you try some functions, they create such addiction that you can search for them everywhere, on other devices, on other operating systems but so far, the really smart functions are here on Pixel device. Pixel 7 Pro is not recommended, more so. Taken with closed eyes.
You may be interested in: Google Pixel 7 review