This smartphone can be used as a tablet and e-book reader, mouse and keyboard as a laptop, it can be connected to a monitor, laptop and much more. The Samsung Galaxy Z Fold4 It's an all-in-one foldable device, and it's an exceptional device that does more things than you can imagine.
Samsung Galaxy Z Fold4 design
The Z Fold 4 may look similar to the Fold3 but by placing them right next to each other, the differences are noticeable, and how they are noticed. The Z Fold 4 is even more refined in detailThe brushed aluminum profile gives it a luxurious touch and makes it look slimmer, and Gorilla Glass Victus+ has held up very well.
From an ergonomic point of view, it has been slightly improved, 6.2-inch external Dynamic Amoled screen with a frequency of 120 Hz, not only is it brighter but above all it is wider in terms of dimensions than it was in the past. The thing that can be more annoying on a narrow screen is typing with the keyboard, everything has been improved here, less crossed fingers. The narrow size has its advantages, although it is always thoughtful and still thick, in the pocket it is comfortable enough to carry around.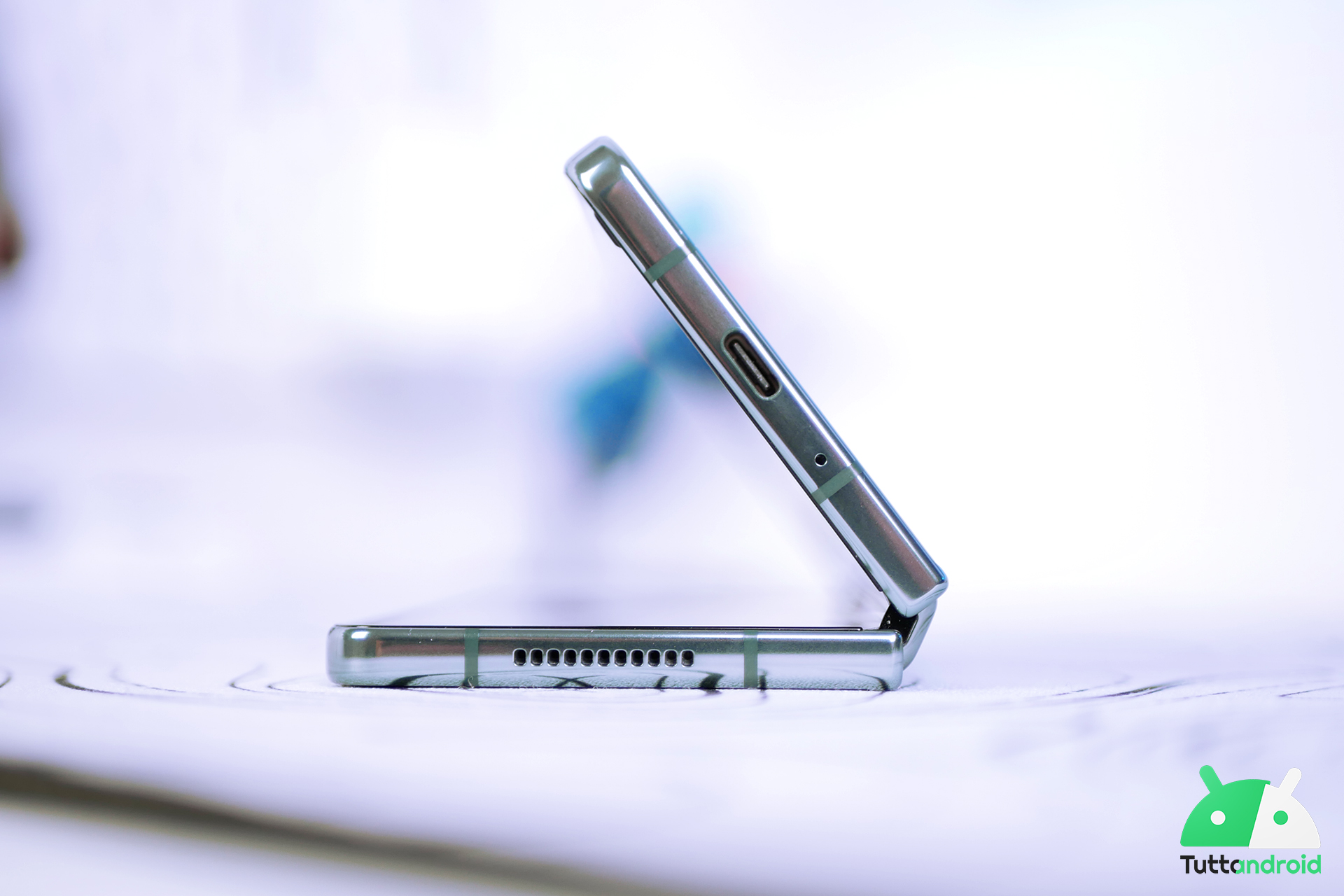 It would have been nice to have a built in stylus or even a little stand built in to use it at an angle of full open. Small consideration for frizz. It's always there, but much less so than last year's, more noticeable in the middle thanks to a new, smaller hinge. In general, the entire opening mechanism is more solid, even with touch, the panel is more solid, has been reinforced and feels a lot.
Small notes of merit. The first is the ultra-fast fingerprint sensor. The second is an excellent telephone part in terms of reception and microphones. Thirdly, there is wireless charging, even reverse. Fourth, and most important is the water resistance which is a silly folding material
Samsung Galaxy Z Fold4 screen and sound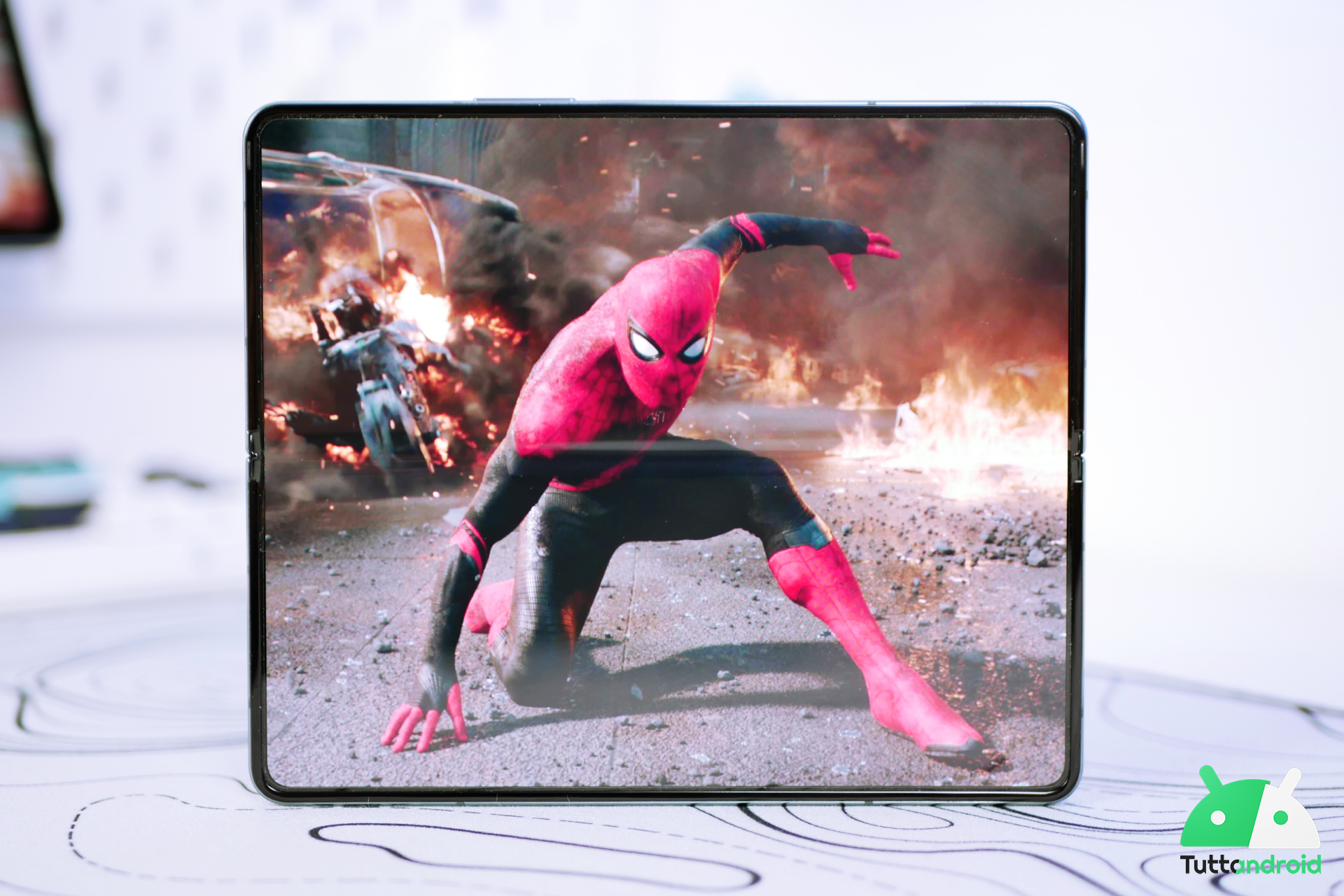 Well, the external display is excellent, easy to read, and useful, but you do take a folding house to open it up Flexible Dynamic Amoled panel at 120 Hz LTPO with a resolution of 2176 x 1812 pixels with a camera under the screen. The camera under the screen has been improved but the quality is always scarce but useful for video calls while the pixel density has improved as well as the perimeter. Now the area is denser and smaller, it is difficult to find it, and then to watch a video it is impossible to notice.
In any case, the flexible display is well worth the ticket price—it's an improvement over last year, with brightness up to 1,200 nits. Combined with two powerful and very high quality stereo speakers, it is the device par excellence for watching series, movies, live broadcasts and videos on the go. In short, once you've tried the Fold4 to follow your passions on the go, it's hard to go back.
Using the Samsung Galaxy Z Fold4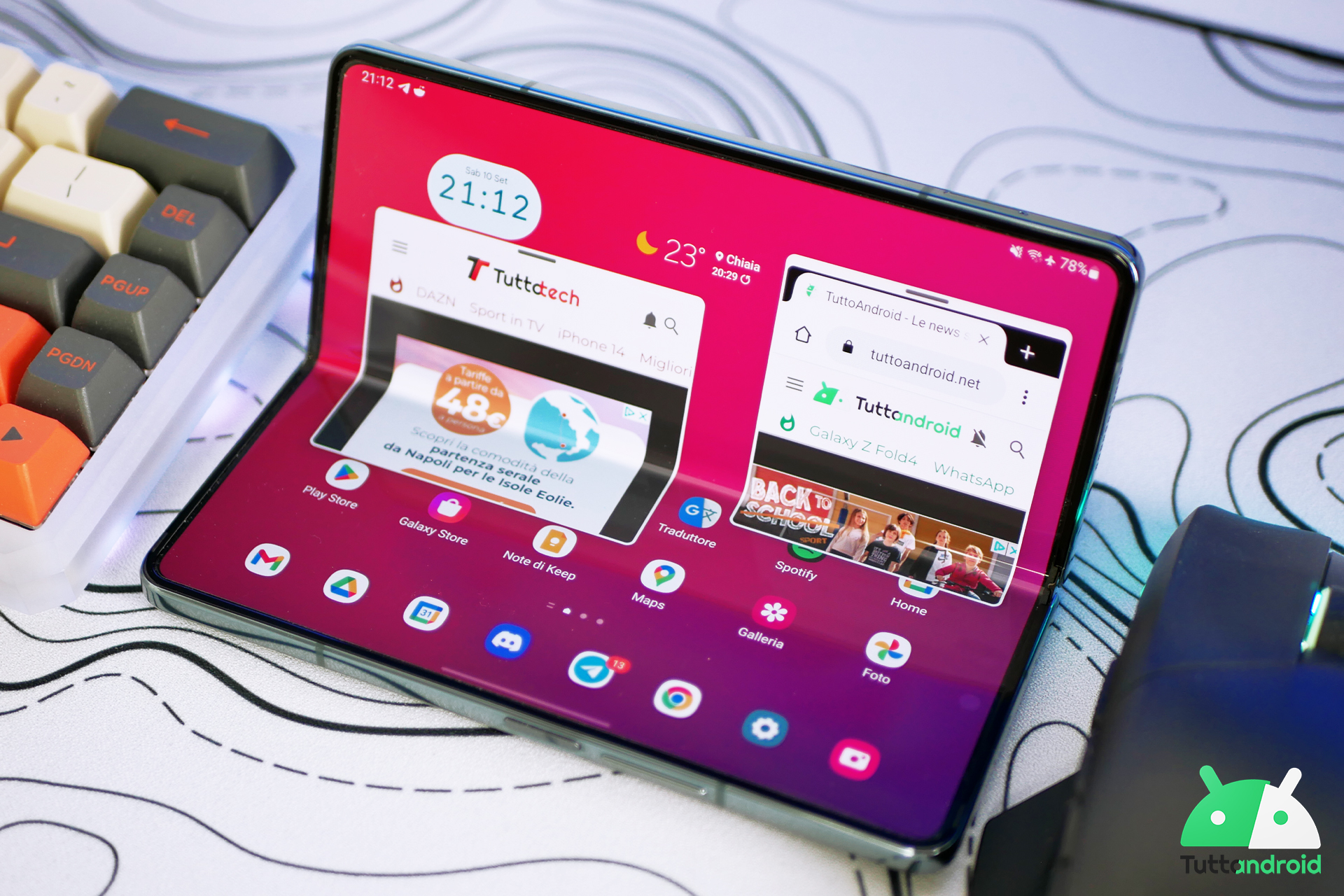 But a true Fold4 power user won't be using this screen for fun but rather for work and doing it seriously. There is currently nothing on the market that can rival the Samsung Galaxy Z Fold4 in terms of productivity and it takes thirty seconds to find out.
First of all, the advantage of having Android 12L should not be overlooked, The very simple taskbar changes the use of the fold featureOptimizes fast and extreme multitasking capabilities and makes you forget about exiting apps because you simply open others on the go. With the taskbar, you can create that continuous workflow that really feels like desktop productivity.
But it has so much potential that to appreciate it all, it must be experienced for a long time, lived and explored. Travel allows you to travel lighter by leaving your tablet at home or an e-book reader. Then it plugs into a mouse and keyboard and it becomes a mini desk set up which is very useful for doing just about anything Plus it has a DEX that turns it into a mini computer that it can use (wireless or cable) either with a monitor, TV, or even with a computer. An extra indifferent feature is support for the S Pen for Fold, unfortunately not built into the body.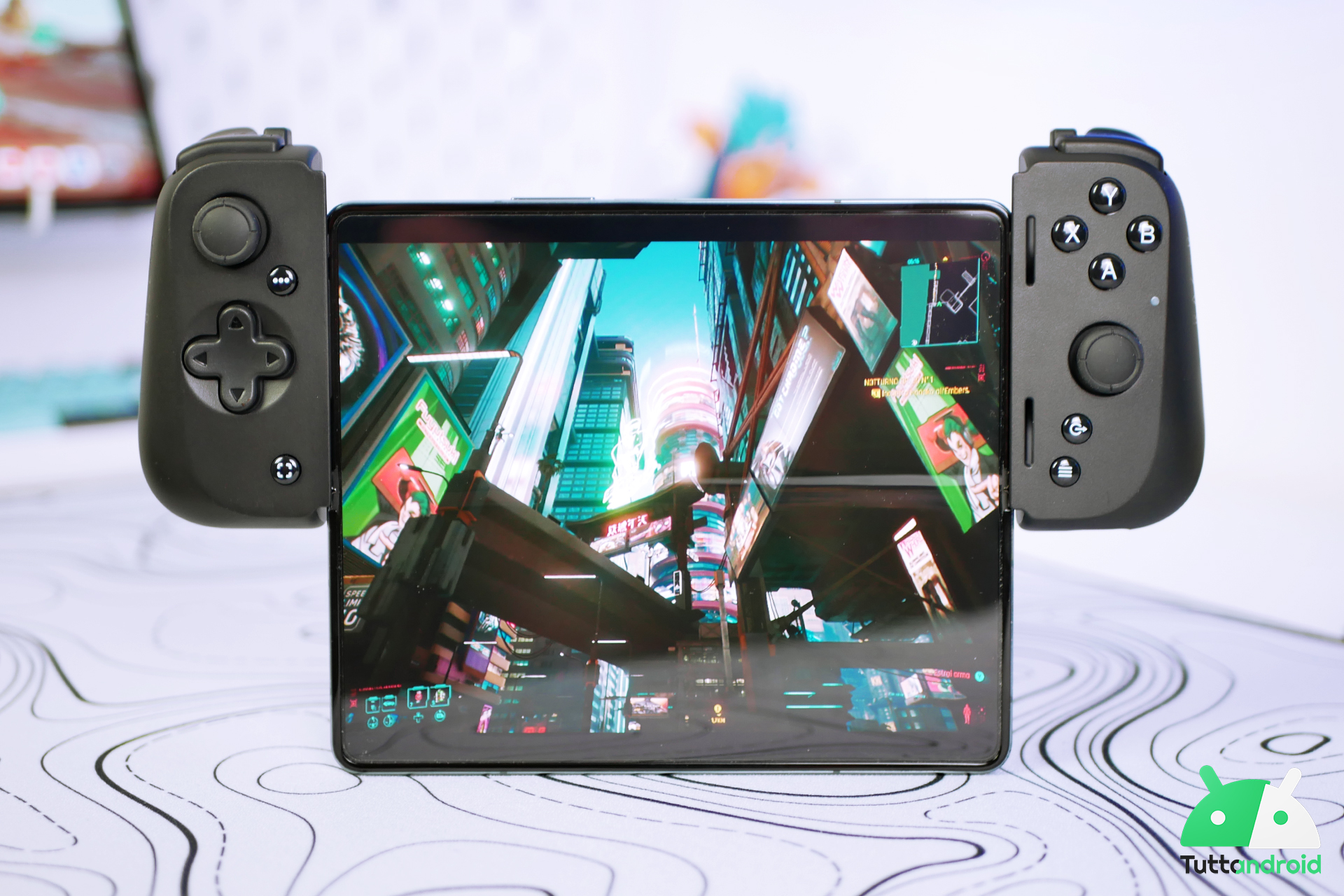 The advantage of all these usage scenarios is the great work done by Samsung, not only to create this form factor, but to develop OneUI 4.1.1 full of Flex modes, exclusive Labs, All on Android 12L that travels great thanks to the Snapdragon 8+ Gen 1 SOC. As mentioned earlier for the Flip4, the Fold4 is a joy to use, more agile, fast, responsive, and fun to use than the S22 Ultra, Android's still-complete top-of-the-line range to this day.
Benchmarks and games always respond great with various lab tests, excellent results also in field tests such as managing background processes, high loads on the CPU and GPU all within the benchmark even at temperatures that even in games do not exceed 40 degrees . Needless to say, playing with this Fold4 is great and probably doing it in the cloud is even more so for playing Triple A with maximum detail and Ray Tracing (possibly with GeForce Now).
Samsung Galaxy Z Fold4 autonomy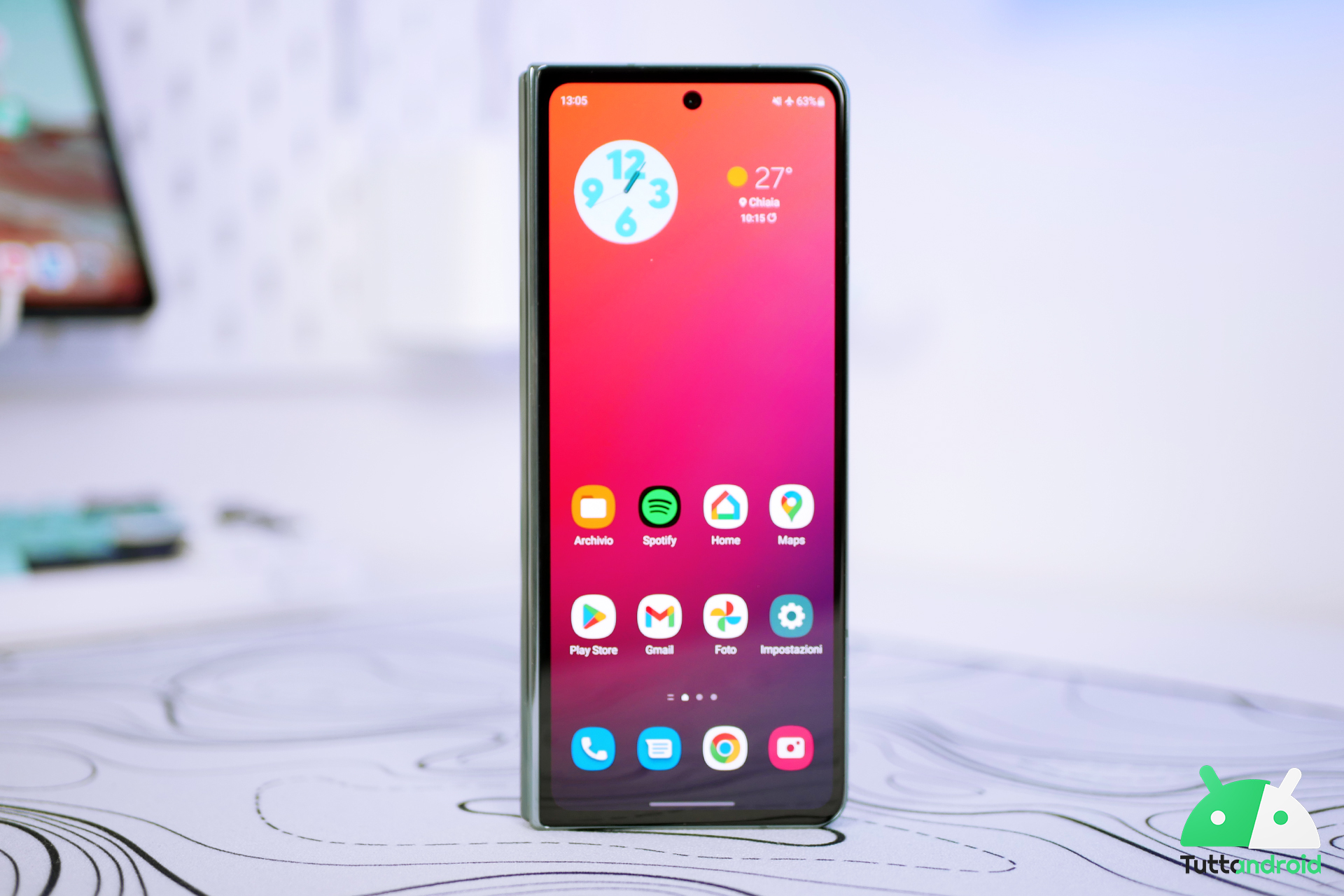 There is no uncertainty about battery life Galaxy Z Fold4 with a 4400 mAh unit That allows this foldable smartphone or tablet to finish even the toughest day of use. Screen hours which as usual mean everything and nothing, are about 7 hours, sometimes a little more, sometimes a little less. For a premium display with a foldable external display, that's just as good.
Samsung Galaxy Z Fold4 camera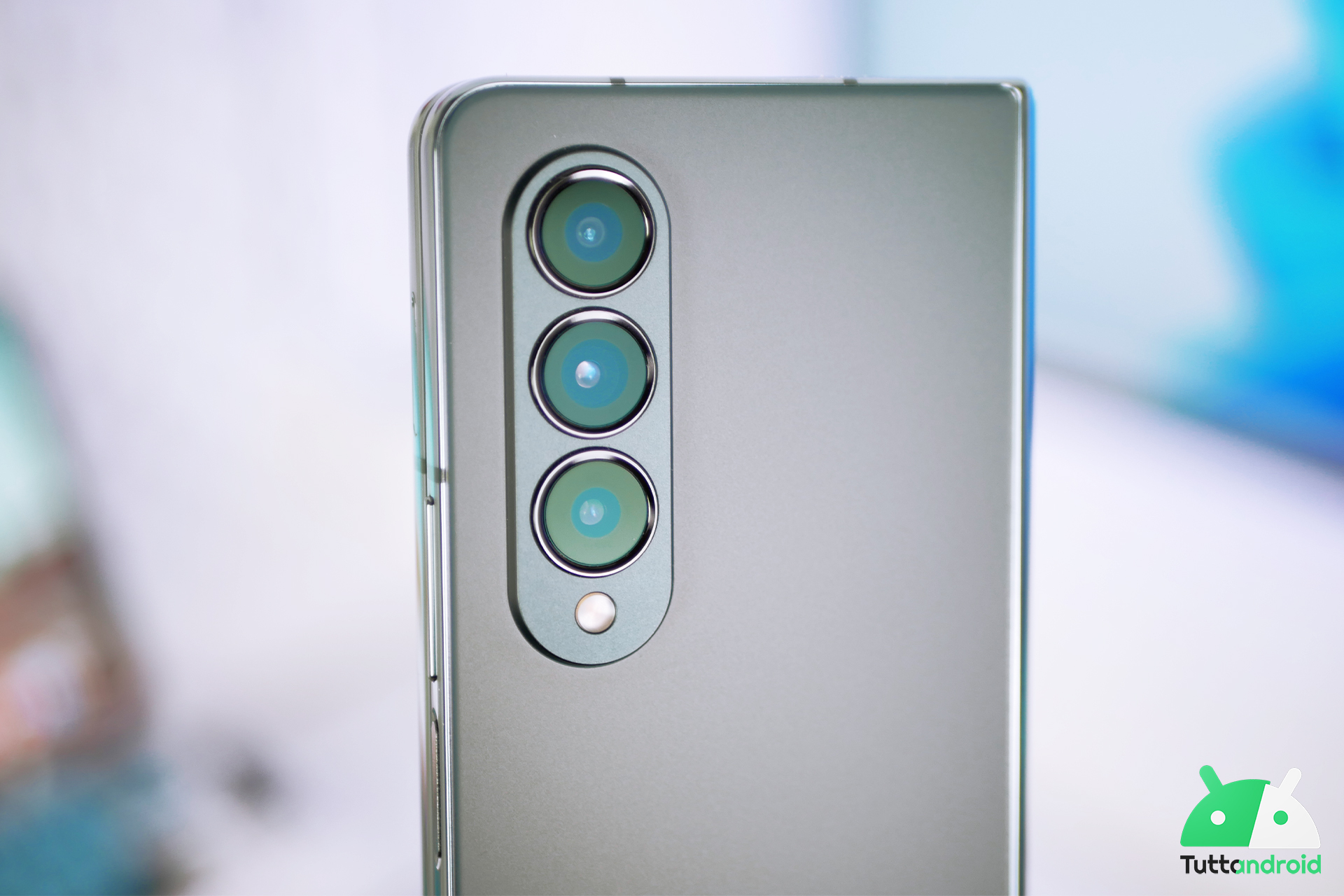 to meAnother big leap forward in terms of photography has been made with the main 50MP sensor (Dual Pixel AF, OIS, f/1.8), 12MP ultra wide angle (f/2.2, 123° FoV) and 10MP 3x optical zoom (PDAF, f/2.4, OIS). The selfie camera in the external screen is 10 MP f / 2.2.
Also in this case, for the Flip4, the improvement is tangible thanks to the triple ISP of the Snapdragon 8+ Gen 1 which, in combination with the 50MP sensor, allows the Fold4 to take real first-class photos. It has not yet reached the zoom levels of the s22 Ultra but compared to the previous generation, the leap forward is huge.
But a web of subtle details, that only a camera nerd can notice and appreciate, finally with the Fold you'll have the security of always taking excellent photos home regardless of the lighting conditions. There is always great dynamic range, lots of detail, white balance always on time and then with Flex mode which is so wide in front it will be possible to use it for selfies, videos for social networks and anything that comes to mind with disarming simplicity and high quality very very. In fact, the (still good) front selfie camera becomes useless as it could easily take advantage of the 50MP rear sensor.
Video recording is also excellent with level stabilization at both 4K 60fps and 4K 30fps, excellent captured audio and very smooth transitions between cameras in 4K at 30fps. It can also transform 8K videos But honestly in 4k everything is on a higher level.
Final considerations for the Samsung Galaxy Z Fold4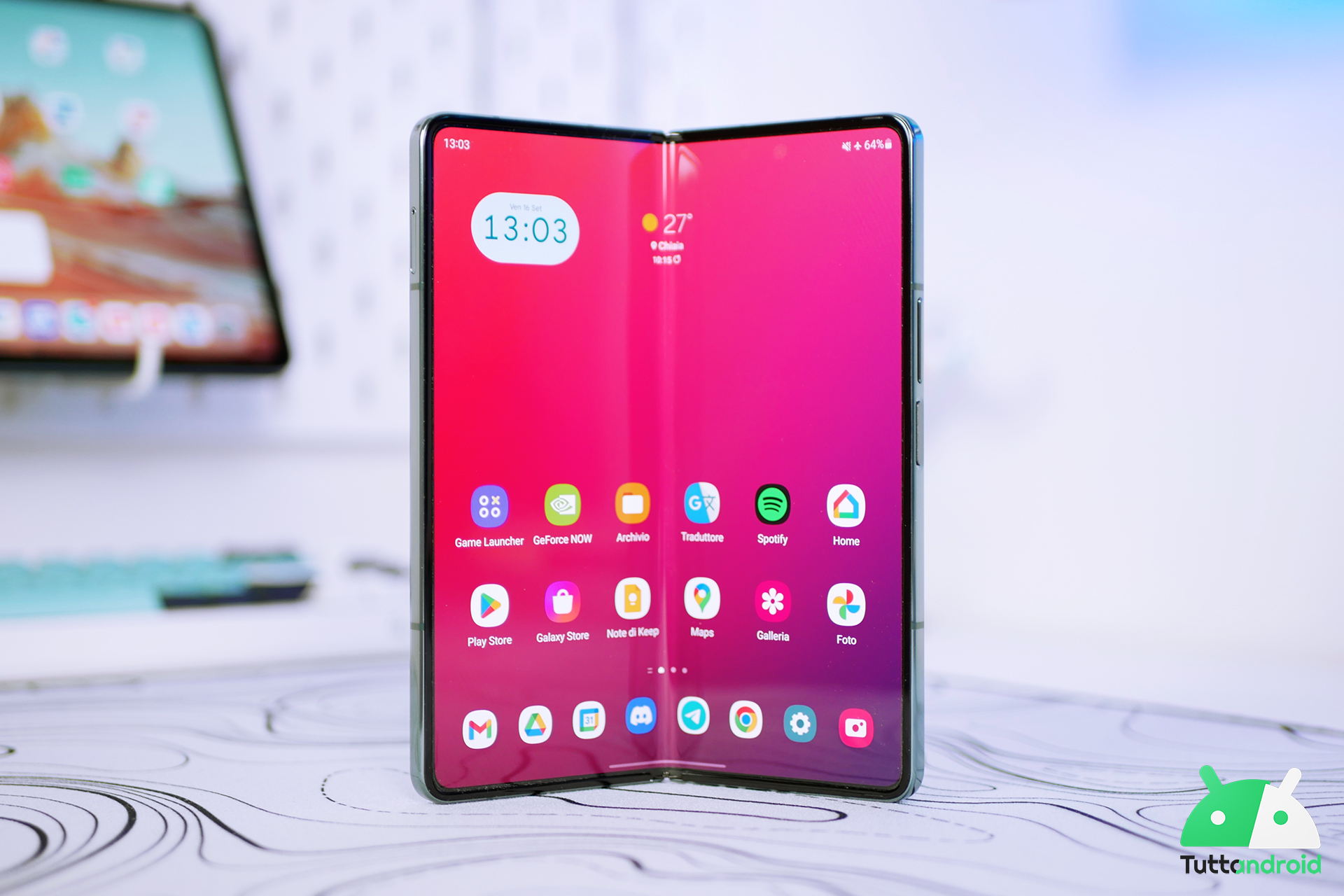 The Samsung Galaxy z Fold4 is in a class of its own. Calling it a smartphone is an understatement, call it a mini tablet as well, it is a new and innovative device that relies entirely on its ability to respond to any type of need, from the urgent needs of true professionals to the simple needs of enthusiasts. The Fold4 is perfect for those who want to experience the whole new All In One experience.
1879 Euro List required for Samsung Galaxy Z Fold4Well priced for the kind of experience it offers. Of course, they are not few but online and in our Telegram channel you can already find excellent discounts. For those numbers, the Fold4 is the only device that brings something different to the market, an entirely new way to use technology on the go.
There is so much innovation, there is so much technology research that we as consumers seem to be out of touch. Samsung Galaxy Z Fold4 is so advanced that in just a few years we will understand its importance in the marketWhat historical value do you have at this particular moment? Remember when it was said that the Galaxy Notes were so big, was the huge screen useless? Here, all smartphones today are huge and the Notes set the trend, as is the case with the Z Fold4 with the only difference that many will only notice in a few years.
You may be interested in: Samsung Galaxy Z Flip4 review