OPPO renews the Reno line, which is always distinguished by elegant design and high-level performance, which, this year, highlights the imaging aspect even more. It does so with a revamped selfie camera and MariSilicon X image processor, letting go of almost nothing but an indictment of the problems of our time for which there are some sacrifices. in our area Oppo Reno8 Pro 5G review There is everything you need to know.
Unboxing Oppo Reno8 Pro 5G
The Oppo Reno8 Pro box comes with a USB Type-C / USB Type-A charging and file transfer cable and an 80W charger.
Oppo Reno8 Pro 5G video review
Design and ergonomics
The Oppo Reno8 Pro 5G design It certainly makes a very good impression, the company works on this point with every new model always trying to invent something new, and partially succeeding. It measures 7.34mm thick and weighs 186g, which is quite surprising for such a large phone (161.2 x 74.2 x 7.3mm). It has a frame made of aluminum alloy while a glossy glass panel made of Gorilla Glass 5 is affixed to the back, without interruption in the photographic unit, which in any case consists of a height with shapes harmonious and continuous with the body. Very picturesque views as they are reflected with the only drawback of being easily soiled by fingerprints and appearing larger than they really are, thanks to the all-important photographic accessory. In terms of resistance, the smartphone has IP54 certificationYou won't be able to use it underwater, but it can easily withstand rain and some splashes.
Amalia oppo I worked hard to optimize the edges to a minimum, they are not symmetrical along all four sides but the left and right edges are almost flush with the body, this allows you to fully enjoy the generous dimensions of this smartphone with a large size of 6.7 – inches with HDR10 + technology and 120Hz refresh rate, HDR is supported with both Netflix and Amazon Prime Video. It's a lot Bright, colors are vibrant and viewing angles are perfect. It's definitely a better screen than the one on the similarly priced Realme GT Neo 3 (150W) and OnePlus 10T. There are two stereo speakers that are particularly loud but sound clear even when maxed out.
Under the display is a fingerprint sensor which works very well as usual.
Oppo Reno 8 Pro 5G It doesn't offer expandable storage, but it has two 5G SIM slots for two nano-SIM cards. The phone supports 5G dual standby along with standalone (SA) and non-standalone (NSA) 5G bands. Other connectivity options include Wi-Fi 6, Bluetooth 5.3, and NFC.
Careers
Oppo Reno8 Pro 5G hits the market with Android 12 ColorOS 12.1.1then you are guaranteed 2 Android updates and 3 years of security patches.
The program is classic for those who know the brand. There is a possibility to customize system colors according to the selected background, exclusive font and O-Haptics technology to improve the vibration system. This uses a linear engine and provides very accurate feedback when typing text on the keyboard or when playing 3D ringtones, which is one of the few features that is still exclusive to Oppo and not found on Realme and OnePlus smartphones.
Then there are the various features of Private Space to hide files or apps, the ability to use multiple accounts of the same app by splitting them, windowing apps and simplifying functions for one-handed use.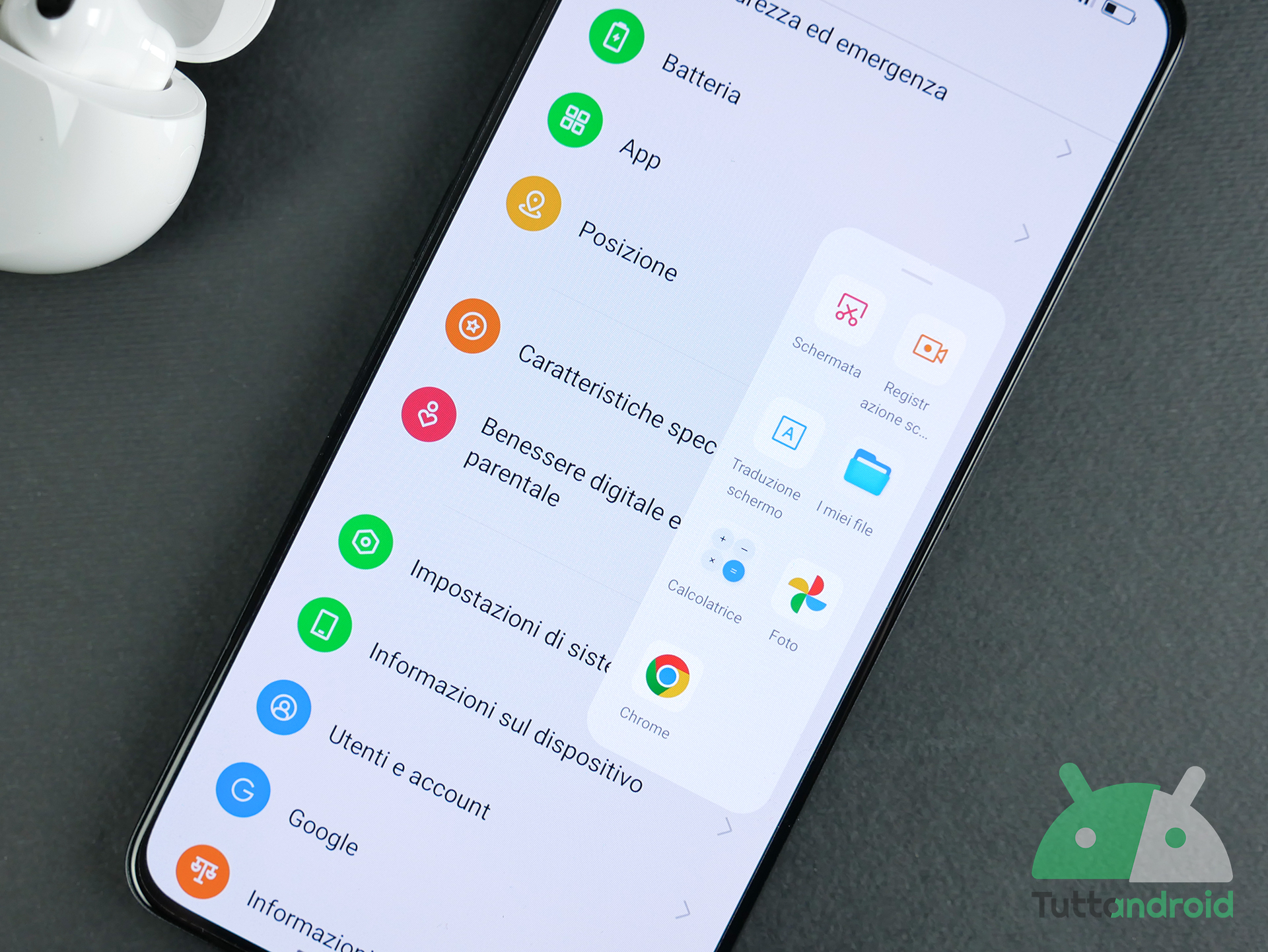 performance
The beating heart is the MediaTek Dimensity 8100-Max, a cutting-edge processor dedicated to performance that's ready to meet any need and any situation. It is an excellent processor that, on the one hand, offers performance, and on the other hand, it does not look particularly expensive in terms of consumption. It is joined by 8GB of LPDDR5 RAM and 256GB of UFS 3.1 internal storage.
It goes without saying that you practically never hesitate, even during the most demanding usage sessions or when playing the heaviest titles.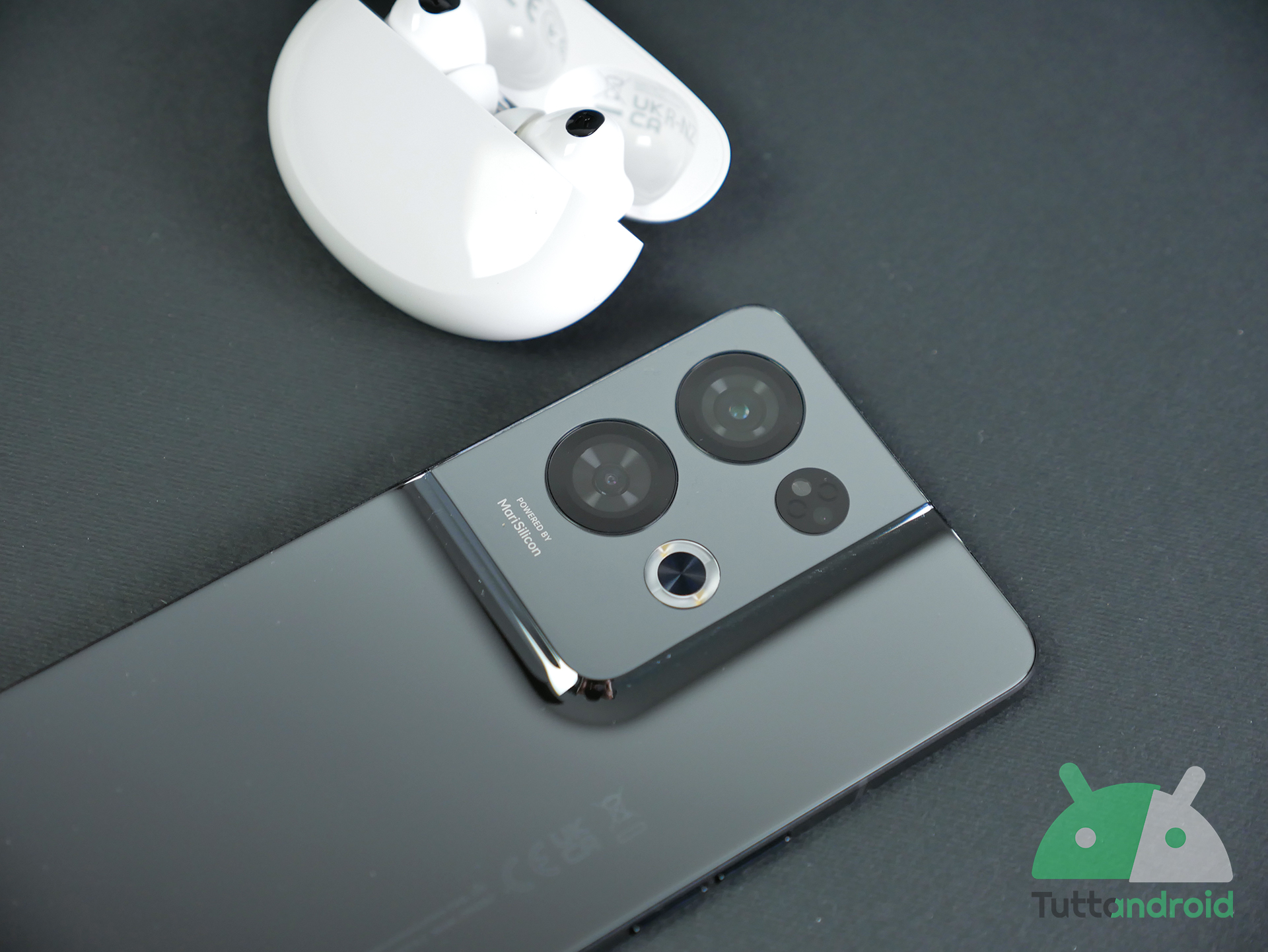 camera
Oppo Reno8 Pro 5G bets everything on its two photographic sensors: a 32-megapixel selfie camera, a sensor specially designed for Oppo from Sony, while on the back on the main sensor from 50MP IMX766. To support the Oppo Reno 8 Pro, it's there MariSilicon X Image Processorwhich is the same that we find in the high-end Oppo Find X5 series, a chip dedicated to improving and improving photographic images in all situations, especially those in low light which are usually more difficult. It also has an 8MP wide angle camera and a 2MP macro sensor.
A real shame is the downgrade compared to the Oppo Reno6 Pro which instead had a 16MP wide angle and 13MP zoom sensor.
It seems like the macro camera is only there to fill out the spec sheet because it's very difficult to take a usable photo because of the fixed focus. Unlike most phones from OnePlus and Realme, enabling the AI ​​scene optimization feature on the Reno 8 Pro 5G is actually used during the cameras as it manages to offer better dynamic range, especially in daylight.
Selfies are sharp, with very good detail and dynamic range in daylight. Selfies are also sharp, but the phone can't detect the background very well. However, in low light conditions, photos are appropriate provided there is a light source nearby.
Shooting in low light with the main camera in automatic mode yields good results, but the lack of optical stabilization (OIS) makes itself felt. The phone shoots automatically with a longer exposure when needed (one to two seconds) and up to three seconds when using night mode.
battery and autonomy
Oppo Reno 8 Pro has a 4,500mAh battery and supports 80W SuperVooc fast charging from 0 to 50% in just 11 minutes. as independence It's relatively easy to get through a day and a half of actual use, averaging around 5-6 hours of active screen time. The Battery Health Enginge technology is interesting, as it allows you to maintain up to 80% of the original capacity after 1,600 full charge cycles. Rather, it is missingWireless charging, which is a shame as some competing smartphones have it.
In conclusion
Oppo Reno8 Pro 5G is a full-fledged smartphone that performs well. Its greatest strength is undoubtedly the technological component that sees the implementation of the MariSilicon X image co-processor which, for this reason, provides the quality of night photography at the highest level, it is only a pity to choose two secondary imaging sensors that are a step back from what has been offered by Oppo Reno6 Pro.
Oppo Reno8 Pro 5G is available at 799 euros and you can buy it from Amazon or from any electronics chain. A particularly high figure that the company is trying to "golden" with a promotion until September 30 that will give OPPO Enco X2 True Wireless Earphones, OPPO Watch Free, a cover and the chance to win two tickets to watch a match in the UEFA Champions League preliminary round stage.
The new Reno8 series is the protagonist head and stayThe exclusive program for OPPO Community Members, which provides users with the ability to choose to test and review devices for a month before purchasing them. To participate, users will only have to fill in lonliness On the platform, by September 18th. At the end of the 30-day trial, selected users will be able to purchase the device at a 50% discount.