Have you tried logging into Facebook but something went wrong, to the point where you can't log into the social network like you normally would? The second attempt was also not successful, as well as the third, fourth, etc.? In short, there is clearly a problem: in short, Facebook is not working.
The reasons can be many, but fortunately there is a solution for each of them. It's basically simple: first we understand whether the problem depends on us or not, and then we act accordingly.
We've put together this guide to show you just that What do you do when facebook is not working. Below we will explain the main reasons behind Facebook login problems, and offer the effective solution for each problem.
And if none of these solutions help you, you'll unfortunately have to play straight with Mark Zuckerberg as your last card. No, joking aside, we are confident that the means – let's call it that – described below are enough to solve the problems of lack of access to the platform or malfunction.
Check if the problem is yours and not Facebook's
Once you notice that Facebook is not working, the first thing you should check is if the problem lies with you and not with Facebook.
sometimes It may happen that the servers of social networks are downcausing a temporary outage of service.
To understand this, just connect to the Downdetector Facebook page, which collects user reports in the last 24 hours regarding problems encountered using the platform: if there is a peak of reports in the Downdetector graph, it means that many other users in Italy Facing the same problem as you.
What do I do? In such cases, You can just wait for Facebook to fix the situation. The problem usually goes away within a couple of hours maximum, and in more serious cases, you will have to be patient for a little more time.
Clear cache or reinstall the app
If the servers are working fine but you are still unable to use the Facebook app, then the problem must be with you.
First, make sure that you are having problems with Facebook either on the Facebook app or on your computer, since then The problem could be with your mobile device cache or with an outdated version of the app. If you have access via the browser, try clearing the cache of the app if you are using an Android smartphone, or uninstalling and reinstalling the app if you are using an iPhone.
Conversely, if you can't access from a browser instead of an app, delete the browser's navigation data and any pre-installed extensions, then try logging in again.
Below are the instructions for Clear cache of facebook app on android:
Open the app settings.
Select tab "applications".
Tap on the Facebook app to access the app's information.
press up storage memory.
touches "clear data" And the "Clear cache".
Change DSNs or proxy access
Another solution that you can try when Facebook is not working is Change DSNs or access the social network via proxy.
It is recommended to modify the DSNs or access through the proxy When you are at work or schoolas long Network administrators can block access to Facebook For obvious reasons (low productivity, distractions, etc.). Both of the proposed solutions are able to bypass this block, allowing you to use the social network without any problems.
If you choose the first solution, we invite you to read our guide on how to change your DSN and choose the best one. If you instead decide to access via Proxy, we suggest you try Hidester (our review here) or read our Anonymous Surfing guide where you can find other Proxy services to test.
Recover Banned Facebook Account
Not being able to login to Facebook can be a direct result of Closing the account temporarily or permanently.
In most cases, this happens When the respective user violates the internal regulations of the platform (using a fake profile, posting hateful content or nude photos, etc.).
When Facebook disables an account, it simultaneously sends an email to the email address used when registering to explain the reasons for the ban. The same email also contains information on how to contact support.
If this is your case, get your Facebook profile back Contact support first. If there is no response, contact the help page to request control of your Facebook account and loginLogin email address or the phone numberThen yours name and surnamethen upload your own photos identity document And click on the button Presents to request the opening of your account.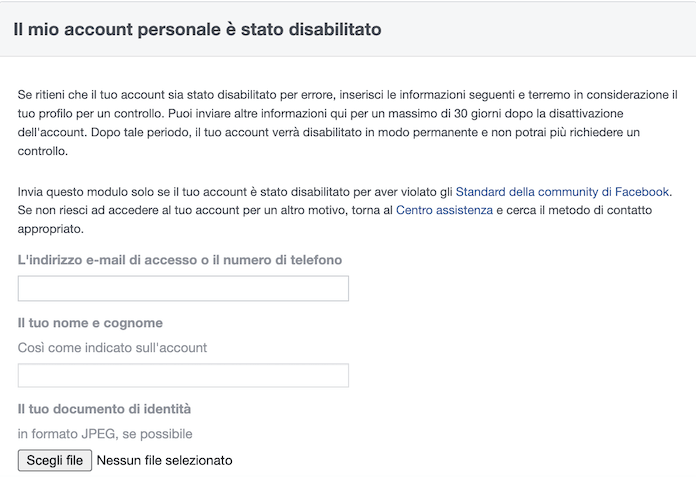 It usually takes 48 to 72 hours to get a positive or negative response, but there are testimonials on the net from users who had to wait up to a week before receiving a response.
to caution:
As mentioned on the help page, The monitoring request must be submitted within 30 days Because your account has been disabled, your Facebook profile will be permanently disabled after 30 days.
Facebook still not working? Access from alternate versions
If Facebook does not work after all the attempts made so far, it is not excluded Internet problems that are difficult to identify For the less experienced. To get around this other difficulty, there is a fairly simple solution: access facebook from alternative versions, Lighter than classic servers and connected to servers other than the main servers used by Big Brother.
The Lite versions of Facebookas a last resort, are the following:
And even if this last attempt fails, we inevitably go back to the starting point: The problem does not depend on you, but on Facebook, as described in the first chapter of our guide. In this case, your hands are tied, you just have to wait for the problem to be fixed by Meta technicians.
conclusions
In this guide we have illustrated a whole series of Solutions to adopt when Facebook is not workingeach of which refers to a specific problem that can be found on the social network invented by Mark Zuckerberg.